GREATER DATA COLLABORATION
In today's global business environment, the need for collaborative tools is a must. Whether your professional team is sharing, learning, or presenting, Chorus Call's latest product offering provides a robust and feature-rich data collaboration solution.
Among a myriad of options, Chorus Call's iPresent gives users the ability to send meeting invitations, share their desktop, display a PowerPoint presentation, collaborate on an interactive whiteboard, create a recording (with synchronised audio and data), and control their unattended audio conference.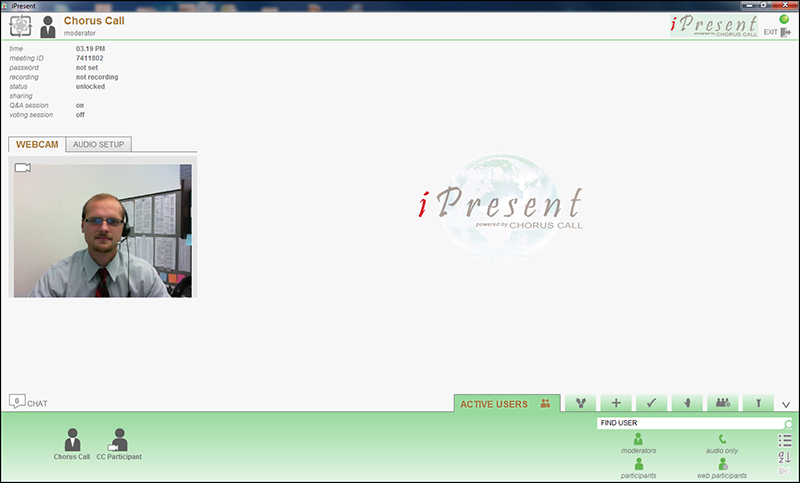 Cross-Platform (Windows, Macintosh, Linux)
Audio Integration with Compunetix Summit
Synchronised audio/data record
Polling, Q&A session, interactive whiteboard
Webcam video conferencing
Secure internet technology (SSL)
Frequently Asked Questions
Is iPresent secure?
iPresent is hosted on a secure server. All traffic between individual clients and the server is transmitted using SSL 256-bit encryption.
iPresent does not store shared material for any length of time.
Who can view shared material?
Each iPresent account is set up with unique host and guest passcodes. This allows users to invite only the participants of their choice.
A host user has the ability to promote guests to host, which allows them to share from their PC. The host can also demote them back to guest when they finish sharing.
iPresent affords users the option of choosing which program he/she wishes to share, so their entire computer is not available for viewing. Your entire desktop is only viewable if you choose to share your desktop.
Can I give control and regain control of my PC?
A sharing user can pass control of their PC to any participant. You have the ability to take back control of your PC at anytime. (ESC key)
How can I control who is in my meetings?
If you have logged in using the host code, you have the ability to lock iPresent at any time. Even with the passcode, no one will be permitted to join your meeting. Hosts also have the ability to eject any user logged into the meeting as a guest, and/or disconnect them from the audio conference.
How do I install iPresent?
Simply remove any previous versions of iPresent from your computer (usually in the programs and features folder of the Control Panel), and then download the newest version here.
Can I use my webcam to broadcast my image into the meeting?
iPresent can show your webcam while sharing your screen to create a more interactive learning environment.
How many people can join a meeting?
There is no limit to the amount of participants that can join a meeting. As long as they have the correct passcode, they can participate in the meeting.
How many moderators can join a meeting?
There is no limit to the amount of moderators that can join a meeting. As long as they have the correct host code, then join the meeting as a moderator.